19 Jul

The Heroes Program: R3 Stem Cell's Way of Giving Back to Our Community Heroes

R3 Stem Cell serves as an alternative to surgery and opioids for chronic pain that is not improving. Veterans, first responders, and teachers are a highly impacted group who suffer from chronic pain due to their everyday work. The Heroes Program offered by this organization gives our community heroes the chance at free stem cell therapy to relieve chronic pain.

Veterans

"Workplace Health & Safety: The Unique Health Needs of Post – 9/11 U.S. Veterans", states that in the year of 2013, only 17.8 % of post 9/11 veterans used Veterans Health Administration. This is the least number of veterans who are getting care than any other era. Over half of post 9/11 veterans reported that they were treated for musculoskeletal or connective tissue diseases as well as other ill-defined conditions. Physical trauma is most common among the combat soldier. In June 2015, 1,645 post 9/11 soldiers had major limb amputations, these veterans suffer from several injuries including psychosocial issues, phantom pain, itching, wound and stump care, etc. Recovery is even more challenging and for some veterans, they are unable to return to regular work or perform regular personal activities.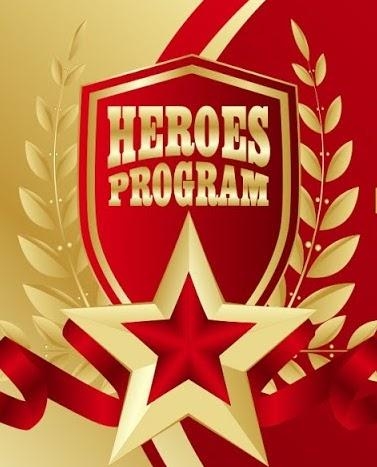 First Responders & Teachers
According to a 2015 study titled "The impact of post-traumatic stress on first responders: analysis of cortisol, anxiety, depression, sleep impairment and pain", first responders experience psychological and physical stress that result in hormonal changes that directly and indirectly strain the body's tissue system. 6% – 32% of first responders have experienced psychological stress and this is associated with functional impairment, bodily pain, and poor physical and mental health."The Hidden Threat of Teacher Stress", states that nearly half of all teachers experience a high level of stress which leads to physical pain and reduces physical stamina. Continuous stress increases the risk of chronic tiredness, heart disease, and a weakened immune system, leaving the body susceptible to illness and pain.
Opioid Crisis
According to "National Institute on Drug Abuse: Opioid Overdose Crisis", in the United States over 130 people overdose on opioids every day. In the late 1990's pharmaceutical companies assured medical communities that no addiction would occur for patients using opioids. However, by 2017 over 47,000 Americans died from opioid overdose and it was clear that this medication was indeed addictive. In the United States, 1.7 million people dealt with substance use disorders caused by prescription opioid pain relievers. 21% – 29% prescribed opioids for chronic pain misuse them and 8% – 12% result in an opioid use disorder. From July 2016 to September 2017, opioid overdoses increased by 30% in 45 states. Rather than being effective and resolving the actual health problem, opioids temporarily relieve pain but mask the root health issue that is causing patients pain.
What is R3 Stem Cell?
R3 Stem Cell was created by Dr. David Greene, performing over 11,000 regenerative procedures and is the only nationwide company to achieve IRB Approval for umbilical cord regenerative cell therapies. R3 Stem Cell has three purposes: to repair, regenerate, and restore. Offering therapy using stem cells to repair other cells that are damaged. Stem cells can be taken from the patient's bone marrow or fat, or amniotic and umbilical cord tissue from a consenting donor. This therapy focuses on an alternative to help people avoid surgery while getting relief from pain with less risks. As a result, over 80% of patients reported to have had improvement in pain, and most notice relief anywhere between two days and two months after therapy. R3 Stem Cell offers therapies that bring not only pain relief but also hope to return to physical activities pain-free.
Heroes Program
R3 Stem Cell created the Heroes Program offering free therapies for veterans, first responders, and teachers who suffer from constant pain that resulted from their daily duties as our community heroes. This program is a way of giving back to our community heroes who work hard keeping America safe, free, and well-educated. Anyone who falls under these categories and are nominated can be chosen as a winner. Nominations can be from anyone or from those who choose to nominate themselves and give a story on what makes this individual a hero. The purpose of the Heroes Program is to show appreciation for our heroes who suffer daily, through an emerging field of medicine that may hopefully give back as much as they've given to us.