PRP therapy for Sports Injuries and Arthritis in Chicagoland
When you meet with the pain management doctors at any one of MAPS Pain Center's seven locations in metro Chicago, you can review all of the newer treatment options such as PRP therapy, and discuss whether or not this is a potentially effective treatment for your situation. It works exceptionally well for all types of sports injuries, degenerative arthritis, tendon and ligament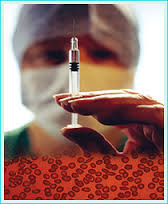 injuries.
PRP therapy is a newer treatment that has hit the media and grown in popularity thanks to the high number of athletics stars who have benefited from it. Platelet Rich Plasma Therapy comes from blood, not bone marrow. So it's a simpler procedure (less expensive too).
Inside blood there are small solid components including white cells, red cells, platelets and growth factors. The platelets are an important part of blood clotting. They also have the proteins and growth factors that your body needs to heal from an injury.
PRP is a form of plasma that has a higher amount of platelets than your normal blood would have. It is often 5 to 10 times higher than the normal amount in your blood. This means that if you inject your body with PRP you will have a higher concentration of the proteins that your body needs to heal from an injury.
In order to develop a preparation of platelet rich plasma, the initial step is a blood draw. From your blood the platelets will be separated and their concentration will be increased through a centrifuge. The centrifuge will concentrate the number of platelets and growth factors. The blood draw is about 60 cc's, and after the centrifuge between 5 and 10 cc's results for injection.

The injection occurs in the same setting, so the procedure overall takes less than an hour.


Is there scientific evidence?
As of today there are several scientific studies which indicate how effective PRP therapy actually is. There are laboratory studies that indicate it does expedite the healing process, and a recent study out of Hospital for Special Surgery showed that knee cartilage is preserved, while pain relief is substantial in over 2/3 of patients.
PRP Therapy is excellent for patients who have chronic tendonitis and has been shown to be great at helping people avoid surgery for such conditions as golfer's and tennis elbow. If a person has a partial tear of a ligament or tendon (such as Achilles and Rotator Cuff), then platelet rich plasma therapy helps athletes get back on the field faster than otherwise.

Surgery for degenerative arthritis, tendonitis and ligament injuries entail potential risk and significant rehabilitation time. With PRP therapy, patients may avoid the need for such procedures as a total hip or knee replacement.

With 7 locations and Board Certified pain doctors who are experts in all types of regenerative procedures such as PRP therapy, MAPS Pain Centers offers patients the best option for achieving relief and getting back to desired activities as fast as possible.
Call today (888) 885-8675 to learn about all your options including PRP Therapy, Bone Marrow and Amniotic Stem Cell Therapy!
Save